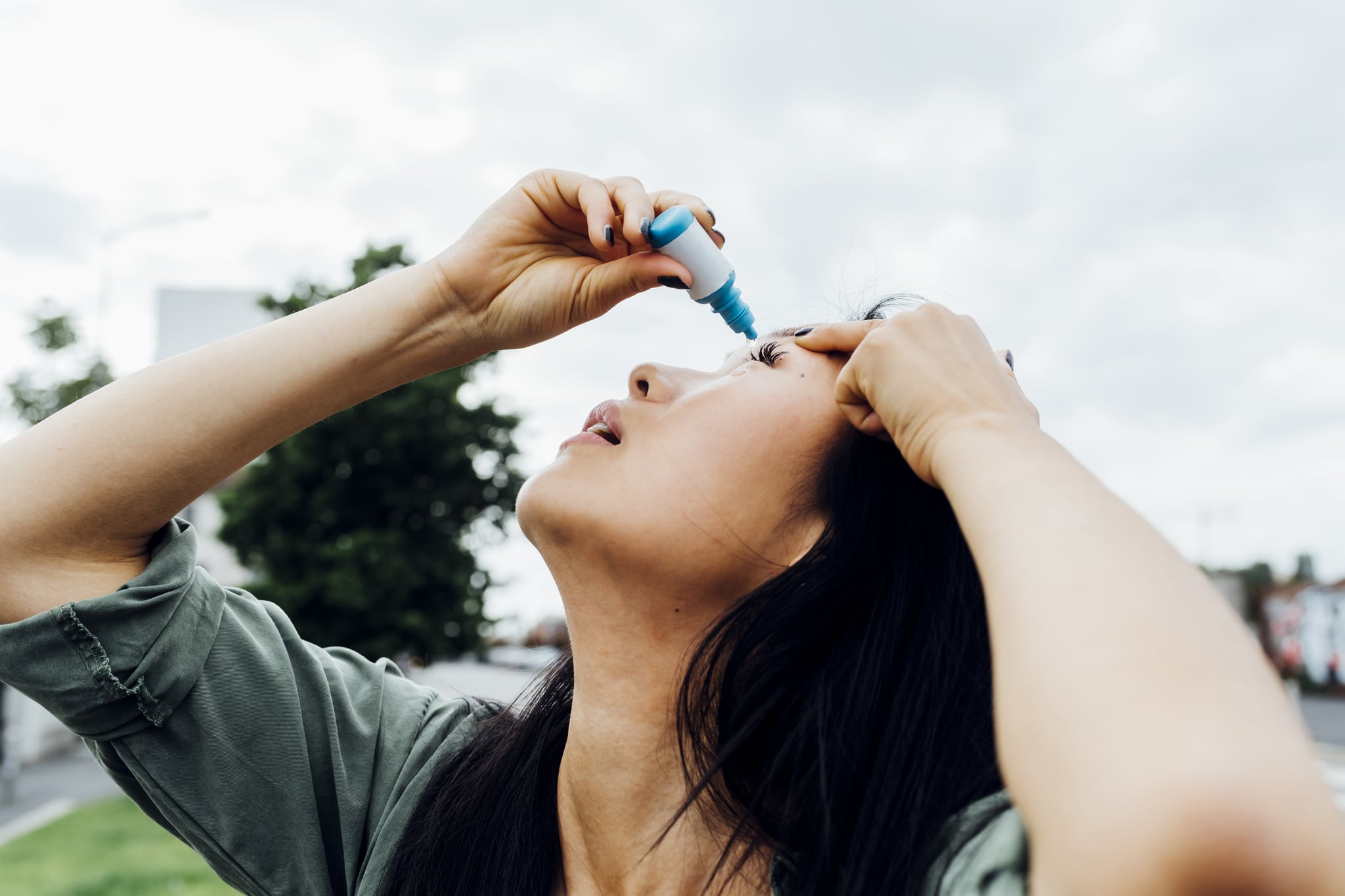 Whether you realize it or not, seasonal changes affect your body in more ways than one. Dehydrated skin and chapped lips only touch the surface, but what about itchy, irritated eyes? Before you grab eye drops from the medicine cabinet and plop 'em in, there's a few things you should know about the latest eye drops recall.
The U.S. Food and Drug Administration (FDA) recently recalled 27 over-the-counter artificial tear products after positive bacterial tests and insanitary conditions were reported in manufacturing facilities, says Sarah Sunshine, MD, an ophthalmologist and cornea specialist at the University of Maryland Medical Center and UM Eye Associates. However, there have been no reports of eye infections as a result of the recalled eye drops, she explains.
But this news comes after several other recalls earlier this year, including one in February for EzriCare Artificial Tears, which along with the Centers for Disease Control and Prevention (CDC), the FDA urged consumers to stop using after it caused an outbreak of bacterial infections — five of which resulted in permanent vision loss and one that resulted in death.
However, the biggest concern with the latest recall is the fear of getting an eye infection, since most people are unsure which drops they actually use, says Inna Lazar, OD, an optometrist and founder of Greenwich Eye Care. "The common factor among the recalled drops is that they are all generic brands," she adds.
And while the recall is concerning since it involves multiple brands of eye drops, if you have been instructed to use artificial tears by your eye care provider, it's important to continue use once you ensure it's not one of the eye drops implicated by the FDA, explains Dr. Sunshine.
So, are eye drops still safe to use? Which eye drops should you avoid? POPSUGAR talked with eye care experts to learn more about the FDA recall and how to stay healthy.
Why Are So Many Eye Drops Being Recalled?
The FDA recently inspected manufacturing facilities that produce multiple private-label eye drops, typically made for large retail chains like Target, CVS, and Rite Aid, and found equipment contaminated with bacteria, says Sandra Brown, MD, an ophthalmologist and medical advisor to The Dry Eye Foundation. "When poor quality manufacturing is detected, such as bacterial contamination of equipment, many different brands of drops must be recalled at once," she explains.
What Eye Drops Should You Avoid From the Latest Recall?
The latest recall from the FDA suggests the following eye drops should be avoided:
CVS Health: Lubricant Eye drops 15mL single pack and twin pack; Lubricant Gel Drops 15mL single and twin pack; Multi-Action Relief Drops 15mL; Lubricating Gel Drops 10mL; Lubricant Eye Drops 10mL single and twin pack; Mild Moderate Lubricating Eye Drops 15mL single pack
Rugby (Cardinal Health): Lubricating Tears Eye Drops 15mL; Polyvinyl Alcohol 1.4% Lubricating Eye Drops 15mL
Leader (Cardinal Health): Dry Eye Relief 10mL; Lubricant Eye Drops 15mL single and twin pack; Dry Eye Relief 15mL; Eye Irritation Relief 15mL
Rite Aid: Lubricant Eye Drops 15mL twin pack; Lubricant Eye Drops 10mL twin pack; Gentle Lubricant Gel Eye Drops 15mL; Lubricant Gel Drops 10 & 15mL; Multi-Action Relief Drops 15mL;
Target: Up&Up Dry Eye Relief Lubricant Eye Drops 30mL; Up&Up Extreme Relief Dry Eye 15mL single pack and 30mL twin pack
Velocity Pharma LLC: Lubricant Eye Drop 10mL (triple pack)
Walmart: Equate Hydration PF Lubricant Eye Drop 10mL
Which Eye Drops Do Experts Still Recommend?
"As of today, all other eye drops that are commercially available and not listed above are safe to use, and I continue to recommend artificial tear eye drops to my patients," Dr. Sunshine says. As a rule of thumb, Dr. Lazar recommends avoiding generic eye drops and sticking with brand name options including Systane, iVizia, Refresh, and Genteal.
It's also best to use preservative-free eye drops which cause less harm to the cornea, or the surface of the eye, which is most affected by dry eye disease, Dr. Sunshine says. You can typically find preservative-free options wherever you purchase artificial tears, but the specific preservatives to avoid include Benzalkonium chloride (BAK), Polyquaternium-1, Sodium perborate, and stabilized oxochloro complex (Purite), she explains. Additionally, always buy brand name eye drops from an authorized distributor when purchasing online, Dr. Brown adds.
If you're unsure which eye drops are safe to use, Dr. Brown recommends the Dry Eye Foundation search tool, which provides safety red flags and the eye drops to avoid.
What to Do If You've Used Eye Drops and Have an Eye Infection
First things first. Don't panic! At this time, no patients have been affected by this specific recall, Dr. Lazar says.
"If you have used the recalled eye drops and are asymptomatic, then continue to monitor for symptoms of pain, blurred vision, redness of the eye, or any other eye-related symptoms," Dr. Sunshine says. However, if you notice any of these symptoms and/or experience eye pain, light sensitivity, vision changes, eye watering, eye redness, or eyelid swelling, call your ophthalmologist or optometrist ASAP and inform them of your symptoms and use of the recalled eye drops, she explains. From there, your doctor will examine the eye and prescribe treatment based on the diagnosis.
Additionally, if you believe your eye drops have caused irritation or infection in the past but your eyes feel normal now, you should still make an appointment with an eye care provider sooner rather than later, Dr. Brown says. "Do not discard the drops, store them in a cool, dark location in a plastic bag that is clearly labeled 'Do Not Use,' and take the bottle with you to your appointment," she explains. It's also helpful to note when symptoms started and when you used the recalled eye drops, and report the incident to the FDA's MedWatch Adverse Event Reporting Program, Dr. Lazar adds.
Bottom line: For now, stick to brand name products and avoid generic eye drops, stresses Dr. Lazar. Properly manufactured eye drops are safe to use, especially if they've been prescribed by your doctor for diseases such as glaucoma and dry eye disease, Dr. Sunshine explains. "If you have specific questions about your eye drops, please reach out to your eye care provider for specific directions and advice."