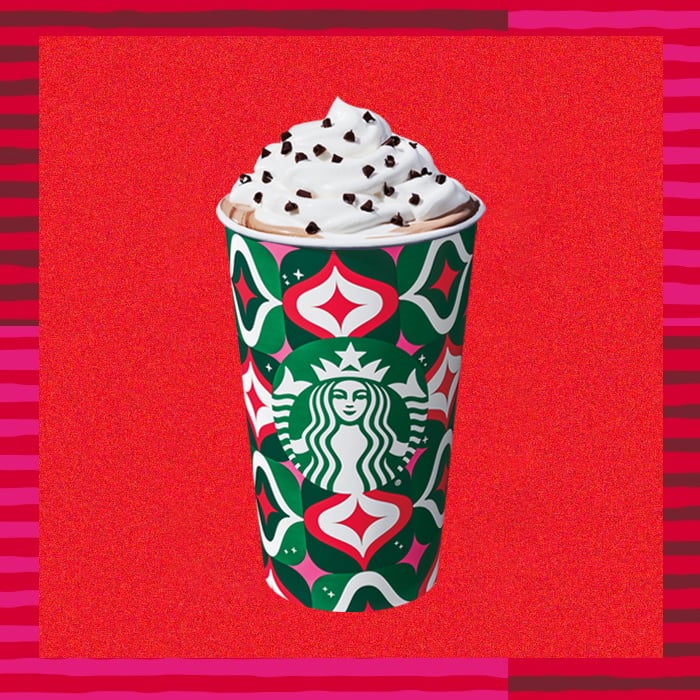 Starbucks makes it easy to get an instant burst of happiness by sipping on the coffee chain's seasonal drinks — they're like liquid holiday cheer. If you're more of a chocolate-lover than pumpkin-spice-obsessed, you'll love Starbucks's peppermint mocha. The drink has been around for more than 20 years now, and is considered the most-loved holiday beverage on the menu, according to the brand.
The drink combines Starbucks espresso with bittersweet mocha sauce, peppermint syrup, and steamed 2-percent milk, and is topped with whipped cream dark chocolate curls. Perfect for the holidays, right?
You might not realize, however, that a grande (16 oz.) peppermint mocha has 54 grams of sugar — that's well over the American Heart Association's (AHA) recommended maximum of 25-36 grams of added sugar per day for adults. Sugar isn't evil, and it's absolutely OK to enjoy a holiday beverage when you want, but consuming too much added sugar on the regular may increase your risk for health conditions including type 2 diabetes and cardiovascular disease, according to the CDC.
Here's the full list of nutrition facts for a grande Starbucks peppermint mocha, in case you're wondering:
Calories: 440
Fat: 16 g
Cholesterol: 45 mg
Sodium: 140 mg
Carbs: 63 g
Sugar: 54 g
Protein: 13 g
We don't want to rain on your peppermint-mocha parade — if you want one, get one! But if you want to make it a little lower in caffeine or sugar, we've got some simple tips you can use the next time you order.
You can visit Starbucks's website to see the full nutrition facts for a grande peppermint mocha. Unfortunately, the nutrition facts for different versions of this drink aren't listed on the Starbucks website, so POPSUGAR spoke directly to a Starbucks employee to get insight into how to order a peppermint mocha that fits your personal needs.
Sugar: Most of the sugar in the peppermint mocha comes from the added pumps of flavored syrup. A grande is typically made with four pumps of peppermint syrup and four pumps of mocha sauce. One pump of peppermint syrup has 6.3 grams of sugar (which equals 25.2 grams of sugar for the four pumps), and one pump of mocha sauce has 5 grams of sugar (which equals 20 grams of sugar for the four pumps). So, if you order half the pumps of each, you'll cut down 22.6 grams of sugar. (Plus, if you're a coffee-lover, that espresso taste will come through stronger.)
Dairy: If you're dairy-free, you can also customize your order to meet your dietary needs. Just skip the whipped cream on top and chocolate curls, and order yours made with nondairy milk like almond, coconut, soy, or oat milk.
Caffeine: Finally, if you're sensitive to caffeine, it might help to know that a grande or venti peppermint mocha has two shots of espresso. If you order a tall or short peppermint mocha instead, you'll get just one shot. If you want a bigger drink, you can always ask your barista for one less shot when ordering a grande or venti.
Keeping these tips in mind the next time you order at Starbucks can help you cater to your nutritional needs while still enjoying this seasonal beverage. Of course, don't let this stop you from ordering a grande peppermint mocha as-is, and taking pleasure in all that festive chocolate-peppermint flavor. The holidays are all about joy, after all!
— Additional reporting by Lauren Mazzo