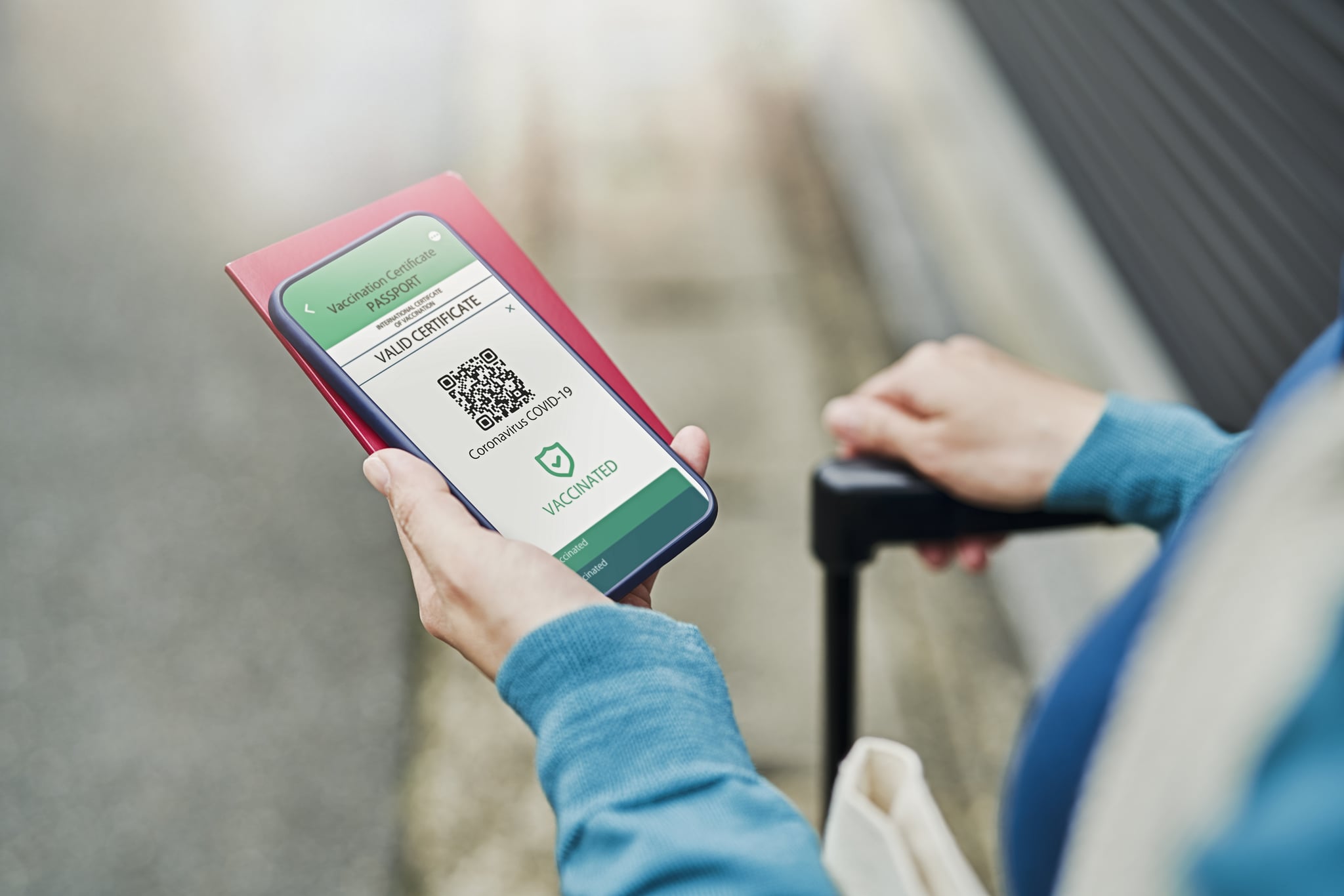 In an effort to prevent the spread of COVID-19, some businesses and institutions are now requiring employees, students, or patrons to be vaccinated — and cities including New York, San Francisco, and New Orleans have issued mandates requiring people to show proof of vaccination in order to enter indoor establishments like restaurants, gyms, and concert venues. Although you can certainly carry your COVID-19 vaccine card in your bag, you run the risk of losing it that way, and many people would prefer the efficiency of accessing their vaccine record digitally.
Luckily, a number of states have online registries, and there are apps that allow you to keep a digital copy of your vaccine card on your phone. Here's how to make sure you always have it on hand.
How Do I Access My State's Vaccination Registry?
There's currently no national database for immunization records. Instead, state health departments keep track of this information. The first step then is to find your state on the CDC's list of state and regional immunization registries. Unfortunately, not every state registry offers digital proof of vaccination, so that's the first thing to check for when you visit the registry. If your state's registry doesn't have this feature, don't worry — there are other ways to provide proof of vaccination.
Is a Photo of My Vaccine Card Sufficient?
According to recent reporting by Forbes, most businesses will accept a photo of your vaccine card. For example, Washington state has advised businesses that "photographs on a mobile device are acceptable." However, if you go this route, make sure to photograph or scan both sides of your vaccine card. In New Orleans, businesses have the right to turn you away if you don't have photos of both sides and, as more cities put proof of vaccination rules in place, this could become increasingly common.
Which Apps Are Recommended For Proof of Vaccination?
Although photos seem to be a reliable way to provide proof of vaccination, it can never hurt to have additional documentation, especially since rules are rapidly changing and differ depending on the city or state you're in. However, before you upload any personal information to an app, be sure to do some research to ensure that it's legitimate. The Washington Post tested a number of apps and concluded that Clear Health Pass is the most reliable and useful at this time. Plus, it's free and easy to use. I personally downloaded Clear Health Pass several weeks ago and have had a great experience with it, especially since I've done some traveling to cities with different rules and requirements.
You can also check to see if your city or state has its own app. For example, New York City offers the COVID Safe app and the state of New York has the Excelsior Pass, which generates a digital pass after looking up your records in the state's vaccine database. Of course, you have the option of downloading both a city- or state-specific app as well as the Clear Health Pass, so you may want to have both on your phone in case you run into any issues when you're traveling out of state. The apps are easy to download and it can never hurt to have extra proof that you've been vaccinated.