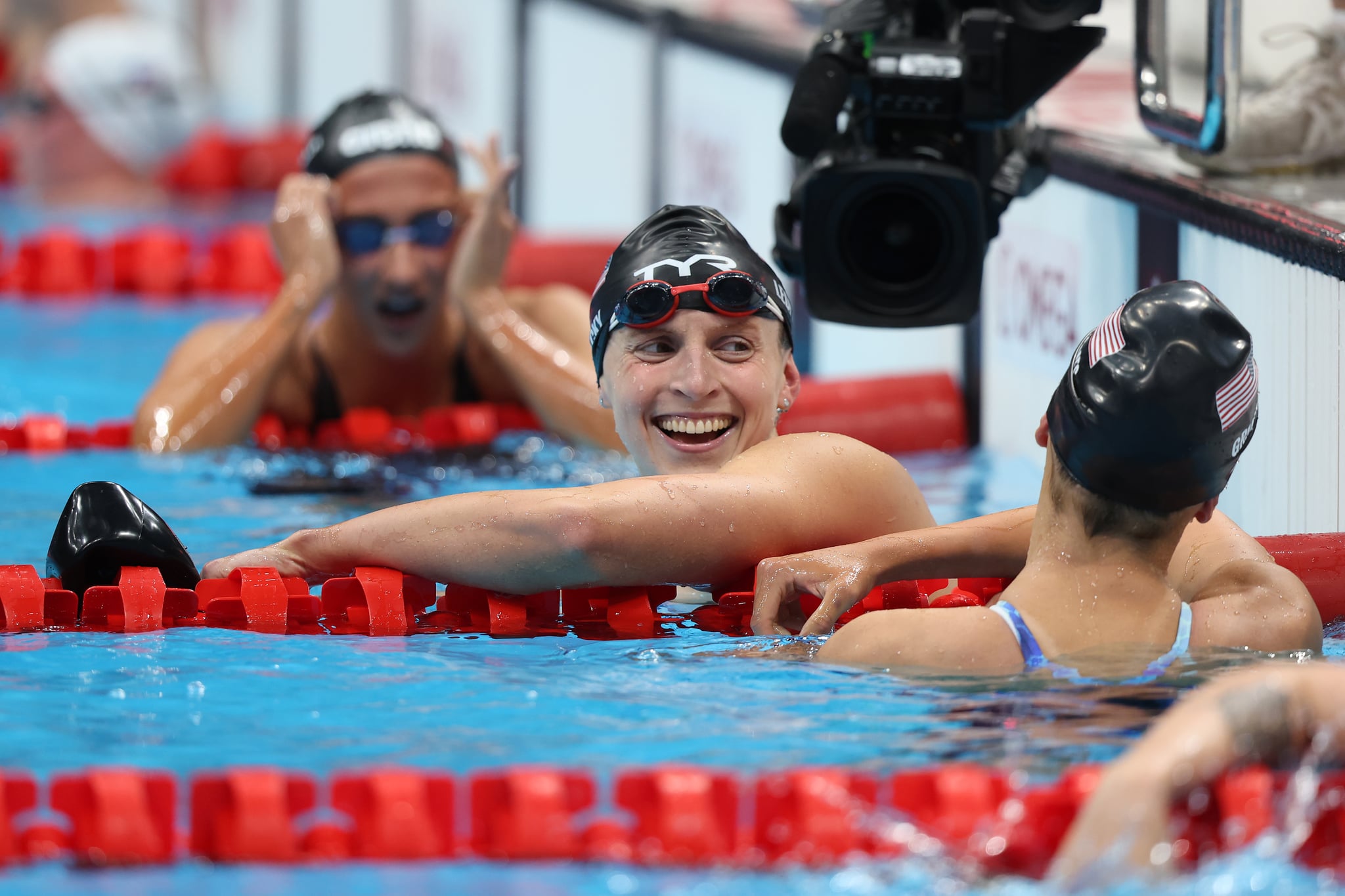 In Katie Ledecky's own words, her 200m freestyle result at the Olympics "wasn't the best one for me." The three-time Olympian landed a fifth-place result, which was her lowest in her Olympic career — a sign of just how dominant she's been as well as the big expectations she has for herself. "It really wasn't a horrible swim in the 200," Ledecky told POPSUGAR. "It was just something that I needed to move on from quickly."
Make that very quickly. Ledecky had just about an hour to get ready for the 1500 freestyle, the most grueling endurance race of her busy Olympic schedule. "I tried to tell myself to just focus on the 1500, like it was my only event that session," Ledecky said. "Just completely put the 200 out of my mind and get my body feeling fresh and ready for the 1500."
1,500 meters equates to 30 lengths of an Olympic-sized pool, a race that takes the women about 15 minutes to complete while maintaining a demanding pace. Ledecky made it look effortless, leading the pack from the start and calmly building on her lead to cruise into a gold medal finish. She made history, becoming the first woman to win an Olympic gold in the 1500.
How can Ledecky consistently dominate these exhausting longer-distance races? The swimmer said it's a blend of mental toughness, years of training, and pain management.
Ledecky said she knows when in the swim she can expect to feel a cramp, or when her legs and arms will start to fatigue. It's expected and understood that pain will be a part of it. "You want those races to hurt. It's a sign of a good swim if they hurt," Ledecky explained. "I know that if I just stick to the basics and stick to my rhythm, even if I'm hurting, I can still maintain the pace."
Ledecky said she was also thinking of her family during the 1500, to lift her mood and get her through the draining race. "I knew that would make it feel shorter," she said.
Was there ever a doubt that Ledecky, one of the greatest distance swimmers of our time, would touch the wall first? As she lifted her head from the water after securing gold, the emotion was evident: Ledecky pumped her fist, yelled, then floated on the lane line as the tears came out. "I think a lot was going through my head," she said: the joy of turning her night around after the disappointing 200m final to win the first 1500 gold for women, leading a one-two punch with her teammate Erica Sullivan, who won silver. Ledecky more than most was aware of the importance of the moment. "We both knew that there were so many great US female swimmers that didn't have that opportunity to race that event," she said. "We tried to enjoy that and make those swimmers proud."
Ledecky would close out her games with two more medals, including a gold in the 800m alongside 15-year-old Katie Grimes, debuting in the Olympics at the same age as Ledecky did in 2012. (They were in side-by-side lanes and debuted a secret high-five handshake afterwards. "She gives the best high fives of anyone on that team," Ledecky said.) That year in London, Ledecky was the youngest athlete on Team USA; in 2016, she was the youngest on the swim team. Now a more seasoned veteran — she's still only 24! — the 10-time Olympic medalist has confirmed she'll be going for her fourth Olympic at Paris 2024.
Ledecky has a few years to go before that, and in the short term, she's ready to decompress. She's doing some work with her sponsors, promoting the Wells Fargo Active Cash Visa Card, and then will head back to the East Coast to visit family and friends; due to the pandemic and training, the Maryland native hadn't been back for a year and a half. "I'm taking a little bit of time away from the pool," she said. "But I know that I'll have that itch to get back into the work pretty soon."