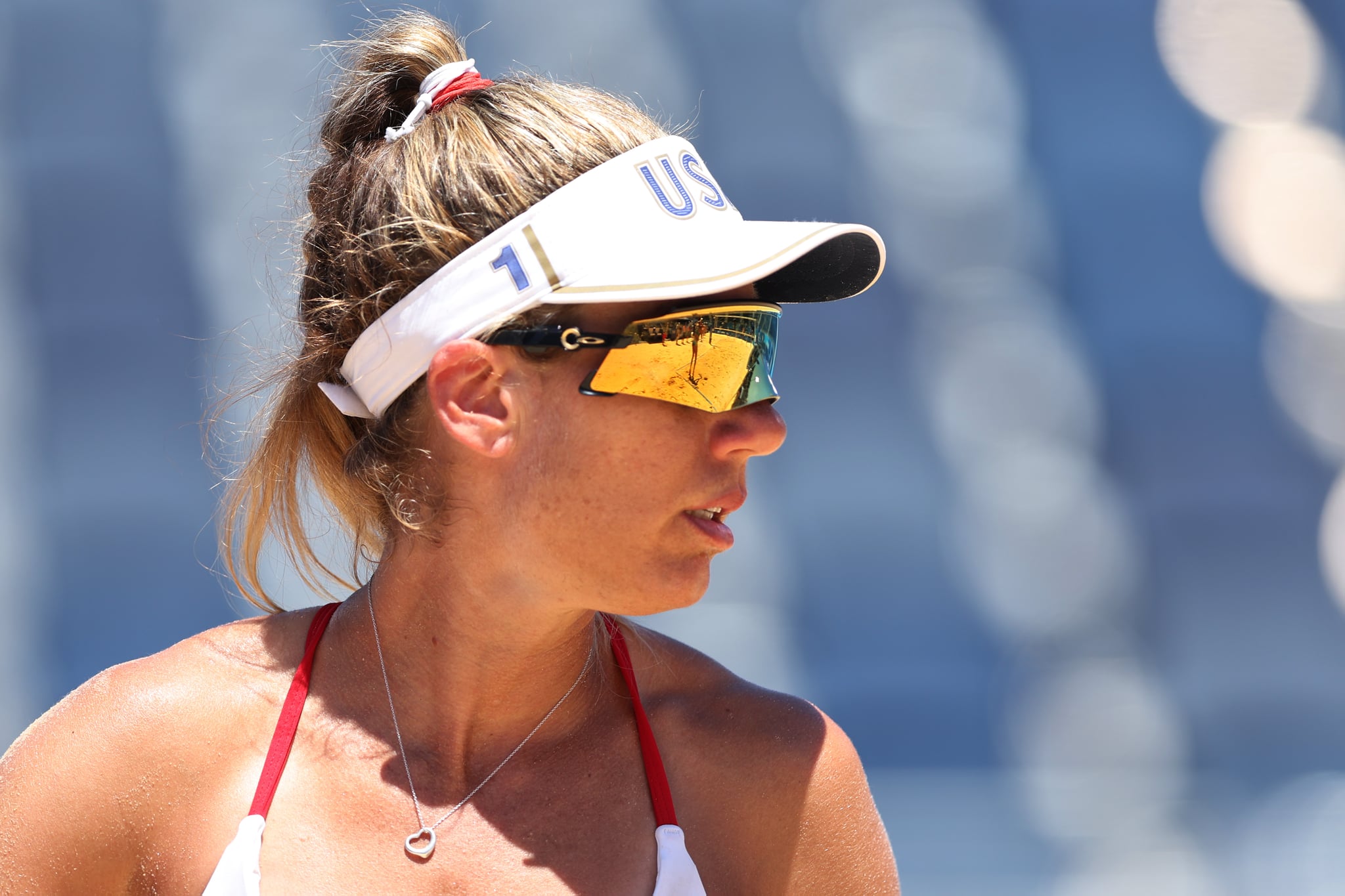 When April Ross and Alix Klineman stepped into the stadium for their gold medal beach volleyball match, the temperature on the sand in Tokyo was a blistering 129 degrees Fahrenheit, plus humidity. Even Ross, a veteran of the sport with 15 years of competition under her belt, admitted it's not typical to play in that kind of weather. "Heat like that, you don't feel very often," she told POPSUGAR later. "Moving around in the sand and being in the heat is harder than I can even explain."
Ross and Klineman, though, had prepared for the tough conditions — if anything, Ross said she over-prepared, squeezing sauna training into her packed workout schedule, scheduling a training camp in Florida to get used to the heat and humidity. "It really paid off," Ross said. "Maybe it was adrenaline or my focus, but I didn't feel the heat when I was out there, competing, so whatever it was, it worked."
Ross and Klineman won the gold medal match in straight sets (they only dropped one set in the entire tournament) and collapsed to the sand, stunned. "I can't believe it. I can't believe it," Ross remembered saying, over and over. It meant "everything" to bring home gold, she said, after going home with a silver in London and a bronze in Rio. "To actually bring it home this time was such a dream come true."
How Does April Ross Train For the Olympics?
Heat training was only part of Ross's fitness buildup to the games. The three-time Olympian prioritizes health both on and off the sand, partnering with pharmaceutical company Eli Lilly "to spread the idea that health above all is what matters," and for Ross, that meant intense strength and endurance training to prepare her body for the rigors of Tokyo.
"I'm really focused on muscle development," Ross said. "I really need to be strong out there and have strength endurance." She does Olympic weightlifting, including power cleans, squats, and rear deadlifts, to develop full-body strength, and is a fan of yoga, too.
April Ross's Favorite Ab Moves
Core work, Ross said, is important for both her health and performance. For one thing, strengthening her core is her main solution to the lower back pain she struggles with after years of playing. Building up core strength increases the support for your lower back, which helps Ross ease that ache.
On top of that, "every movement" in beach volleyball involves your core, Ross said. Receiving a serve, lifting your arms to pass the ball, sprinting into position to keep a rally going: your abs and core are where your power comes from and how you generate momentum, Ross said. "If you don't first have a strong core, it's hard to do anything else," she explained. "It's always a priority for me."
It won't surprise you that Ross's favorite ab moves are dynamic and difficult. She says she does lots of V-ups, body saws on a slide board, and BOSU ball exercises. Hanging knee tucks are a big one, too: "for me, the key on those is to go as slow as possible," Ross said. "It's super painful, but that's one of the best ones."
Her intense training puts Ross in a good position to maintain her performance over the course of the entire beach volleyball season. After Tokyo, she still has four more tournaments to go until she'll be able to take a few months off from volleyball — though even during her break, she says she'll still be in the gym, lifting and working out. After that? Ross doesn't quite know what the long-term future holds, but she knows she'll be sitting down with Klineman soon to talk about it. "There's definitely a possibility you'll see me in Paris."