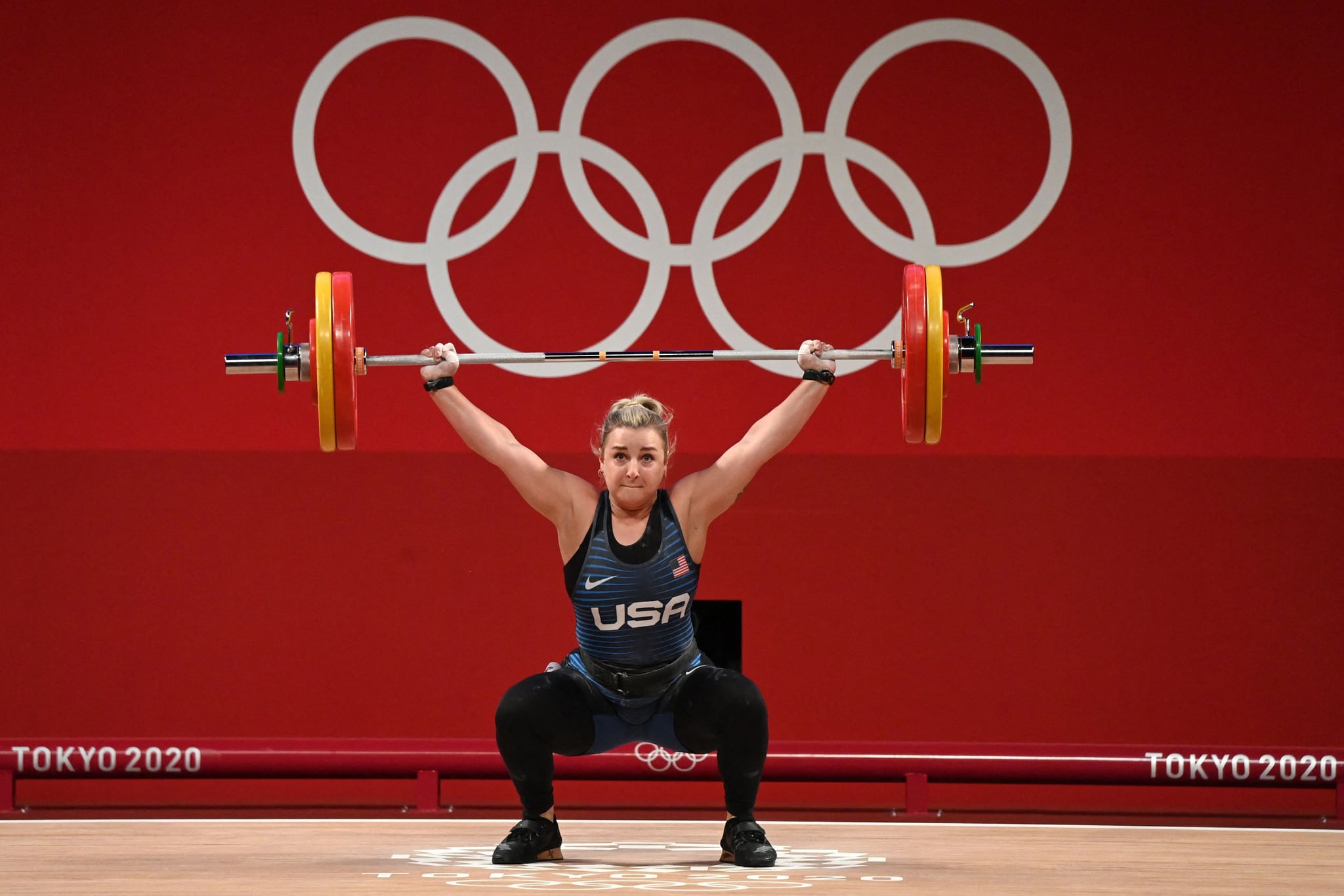 Image Source: Getty / LUIS ACOSTA
American weightlifter Kate Nye won another silver medal for Team USA on Sunday. If you're unfamiliar with how weightlifting is scored, to determine the winner in the competition, the heaviest successful lifts in both the snatch and clean-and-jerk are combined. Nye set a personal best for the clean-and-jerk with 138 kilograms (304.2 pounds) and got 111 kilograms (244.7 pounds) for the snatch. She would have had 114 kilograms (251.3 pounds) in the snatch, putting her in the lead, but after a video review showed her releasing the bar while it was still above her shoulders, she was found to be in violation, so it didn't count.
Surprisingly, Nye hasn't been weightlifting for very long — only five years. Back in 2016, she was doing CrossFit, and in a previous interview, she told POPSUGAR how her coach nudged her into competitive weightlifting. "I fell in love with the training and competing, and it was the best decision I've ever made," she shared. Nye's normal 71 kg division isn't offered at the Olympics, so she had to gain weight through diet while keeping up her strength in training so she could go up to the 76 kg class.
"My medal is a reflection of all my hard work and I think I ended up where I need to be," Nye told USA Today. She said she's proud of her silver medal and added that as much as she would have liked to take home gold, "this is just a huge moment for me."
This isn't the last we'll see of Nye! She has her eyes set on the Paris Games in 2024. She also plans to continue speaking up about mental illness, as she's been open about being diagnosed with bipolar 2 disorder. With other athletes like Simone Biles and Naomi Osaka coming forward to bring light to the importance of mental health in sports, she hopes to show people what it means to have the disorder.
"I think it's important for athletes to be regarded as humans and not just robots for people's entertainment, and I think mental health and people thinking about the struggles really humanizes us, and I hope we can see more of it," Nye said.