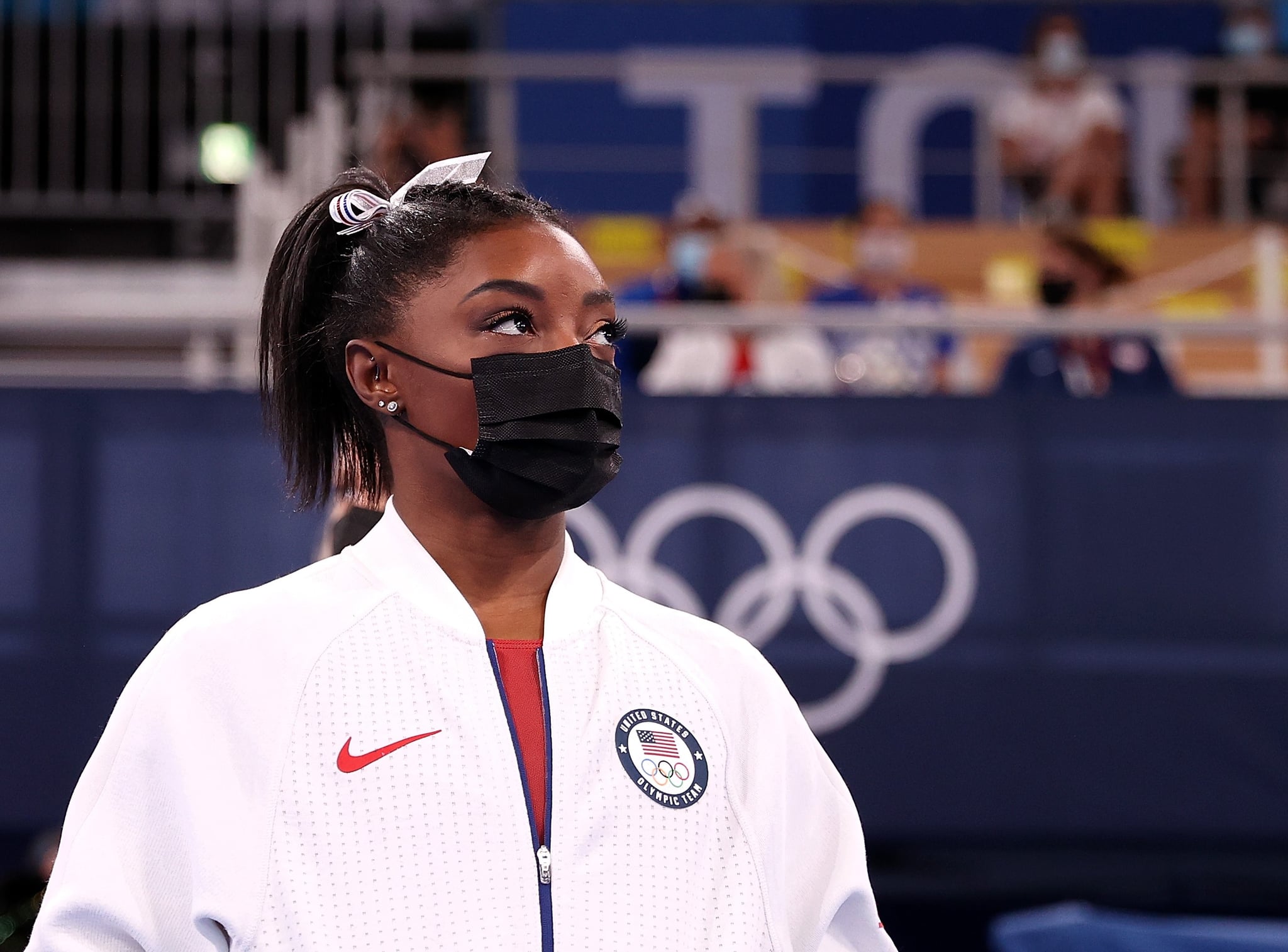 After withdrawing from the women's artistic gymnastics Olympic team final and the all-around final earlier in the Tokyo Games, Simone Biles announced that she will also be withdrawing from the bars and vault finals slated for Sunday, Aug 1. Biles withdrew from the final events earlier this week citing her mental health, and she later went on to explain on her Instagram Stories that she is experiencing the "twisties," where gymnasts lose their mind-body connection and physically can't identify where they are in the air during their flips. It is not only scary, but also dangerous if a gymnast suddenly doesn't know how to land their skills, and it can lead to incredibly serious injury.
"After further consultation with medical staff, Simone Biles has decided to withdraw from the event finals for vault and the uneven bars," USA Gymnastics said in a statement. "She will continue to be evaluated daily to determine whether to compete in the finals for floor exercise and balance beam."
Instead, MyKayla Skinner, who had the fourth highest score in vault during the qualifying round, will compete in vault finals for Team USA. She'll be joining teammate Jade Carey, who finished with the second highest qualifications score on the event. Both are individual athletes who did not contribute to the team's silver medal on July 27. Sunisa Lee, who won gold in the all-around, will now be the only athlete from the US competing in the uneven bars final (she finished second at the preliminary round). France's Melanie de Jesus dos Santos is set to compete on bars in place of Biles.
The vault final on Sunday would have been Biles's last chance to debut her Yurchenko double pike at the Olympics and get it named after her in the gymnastics rulebooks upon landing it successfully. She still has floor (Aug. 2) and beam (Aug. 3) finals on deck, and though it is unclear at this time where she stands, if she earns a podium finish in both of those competitions, she would beat Shannon Miller's record as the most decorated US woman gymnast in Olympic history. Miller's medal count comes in at seven total; Biles has six as of now counting her five in Rio and her silver team medal from these Tokyo Games.
"We remain in awe of Simone, who continues to handle this situation with courage and grace, and all of the athletes who have stepped up during these unexpected circumstances," USA Gymnastics continued on its statement. Biles's teammates and other athletes and celebs have come out in support of her, and we are 100 percent behind her decision.
— Additional reporting by Sam Brodsky