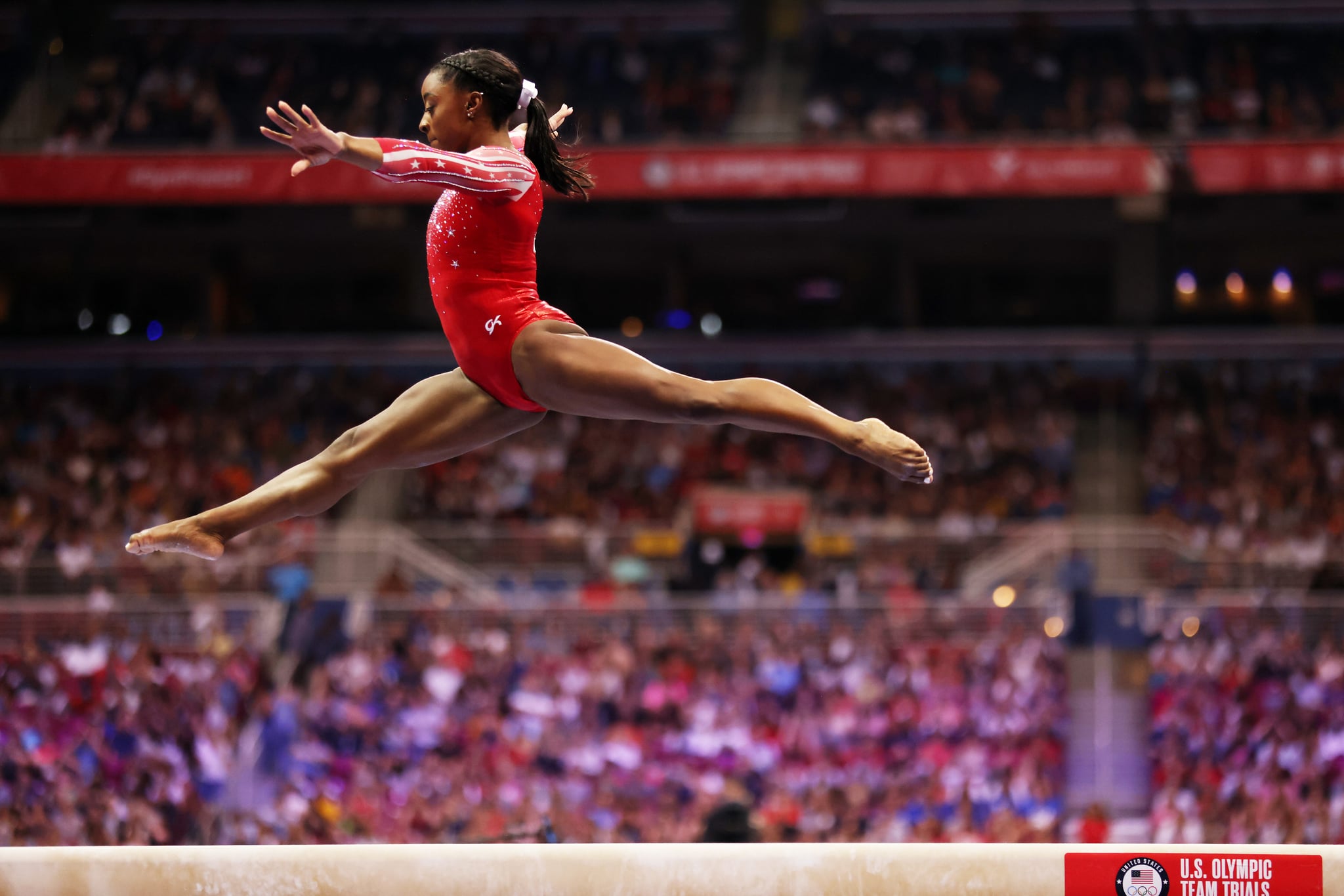 In less than a month, Simone Biles will be leading the four-person US women's gymnastics team to what could be Team USA's third straight Olympic gold. Individually, Biles — who has already racked up an impressive number of Olympic medals — could tie or break the record for the most gold medals won by a single gymnast in the history of the Olympics. (She's already the most decorated gymnast in World Championship history, but who's counting?) Suffice to say, she's an athlete you're definitely going to want to keep an eye on in Tokyo. Check out her full schedule below.
When to Watch Simone Biles at the 2021 Tokyo Olympics
While a heavy medal favorite across the board, Biles will be facing some stiff competition on the mat — but first, she and Team USA will have to qualify for a spot in the team finals, as well as the individual all-around and apparatus finals (vault, balance beam, uneven bars, and floor exercise). Should Biles qualify for all of these events as predicted, this will be her full schedule.
Olympic sports will be available for streaming on various NBC platforms (with a paid subscription to a partner cable, satellite, or streaming service), and the gymnastics events will likely be taped and repackaged to air that evening in primetime.
Women's Qualifying: Saturday, July 24, at 9 p.m. ET. The top eight teams will go on to compete in the Team Finals. The top 24 gymnasts will advance to the individual all-around finals. The top eight gymnasts on each apparatus will advance to the apparatus (event) finals.
Women's Team Finals: Tuesday, July 27, at 6:45 a.m. ET. As a collective whole, Team USA will be looking to clench their third straight Olympic gold.
Women's Individual All-Around Finals: Thursday, July 29, at 6:50 a.m. ET. Biles will most likely be one of two gymnasts representing the US in the all-around.
Women's Vault and Uneven Bars Finals: Sunday, Aug. 1, at 4 a.m. ET. Biles is a near shoo-in for the vault final and will be vying for a spot in the uneven bars final.
Women's Floor Exercise Finals: Monday, Aug. 2, at 4 a.m. ET. As the reigning Olympic champ, Biles is likely to compete in (and win) the floor exercise final.
Women's Balance Beam Finals: Tuesday, Aug. 3, at 4 a.m. ET. In the 2016 Rio Olympics, Biles took home the bronze for her balance beam routine.
Under the current Olympic competition format, in team finals, three gymnasts from each team will compete per event for a total of 12 routines, all of which will count toward the final cumulative score. Whichever country has the highest score takes home the gold. In the individual all-around finals, the top 24 gymnasts from the qualifiers compete; however, there's a cap of two gymnasts per country. Olympic gymnastics will conclude with a final for each apparatus, in which eight women — with a maximum of two per nation — will compete for the gold, silver, and bronze in each event.
You know Biles and her Goldie the GOAT-embellished slides will show up ready to claim their rightful spot atop the podium. Be sure to set your alarm so you don't miss one second of what could be Olympic gymnastics history!