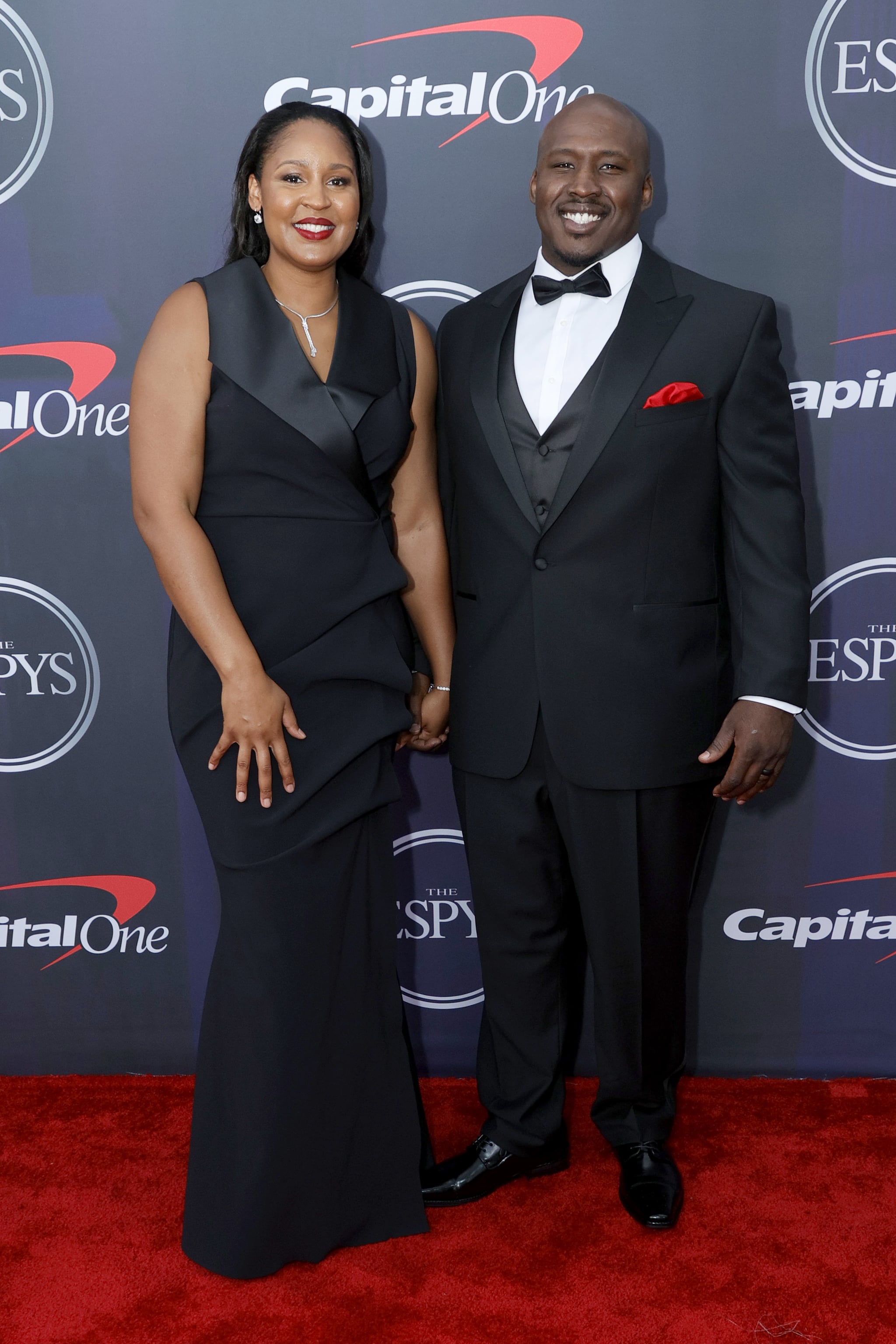 Maya Moore and Jonathan Irons at the 2021 ESPY Awards on July 10. Image Source: Getty / Michael Loccisano
In 2019, WNBA player Maya Moore put her successful basketball career on hold to help overturn the 50-year prison sentence of Jonathan Irons, who was convicted of burglary and assault at the age of 18. In 2020, Irons was freed from prison, and Moore greeted him as he was released. "I feel like I can live life now," Irons said at the time of his release, according to the New York Times. "I'm free, I'm blessed, I just want to live my life worthy of God's help and influence. . . I thank everybody who supported me — Maya and her family."
Moore, who is a four-time WNBA champion with the Minnesota Lynx and two-time gold medalist with Team USA, has been a public advocate for police and criminal justice system reform for years. She has also been outspoken for the Black Lives Matter movement since 2016 when she and her Minnesota Lynx teammates wore black warmup T-shirts with the names of Philando Castile and Alton Sterling, who were both killed by police, on the back. Now, she has been honored with the Aruthur Ashe Courage Award at the 2021 ESPYs for leaving her basketball career to help Irons get released from prison and continue her efforts for criminal justice reform.
Moore and Irons have since fallen in love and gotten married, and he accompanied her to the ESPY Awards. During her speech, Moore said that the headlines have been on her brave decision to step away from her successful career in basketball, but she instead wants people to focus on "the courage that it takes to love when it's hard."
She continued, "If you want to say I have courage, I'd say my courage has not been as much in me not playing, but in the emotional and mental and spiritual outpouring into love and fighting against injustice."
Moore also brought attention to her nonprofit, Win With Justice, which she described as "a social action platform meant to help inspire, educate, and equip all of us to be active participants against prosecutorial misconduct in our justice system."
"As athletes, we have unique power and influence over our culture and communities for what matters most," Moore said. "And one of the best ways that we role model this is by being honest about our own humanity first."
Watch Moore's powerful acceptance speech below.
"Power is not meant to be gripped with a clenched fist, … power is meant to be handled generously so we can thoughtfully empower one another to thrive in our communities, … championing our humanity before our ambitions." —@MooreMaya pic.twitter.com/NcLo4VdfPh

— ESPN (@espn) July 11, 2021