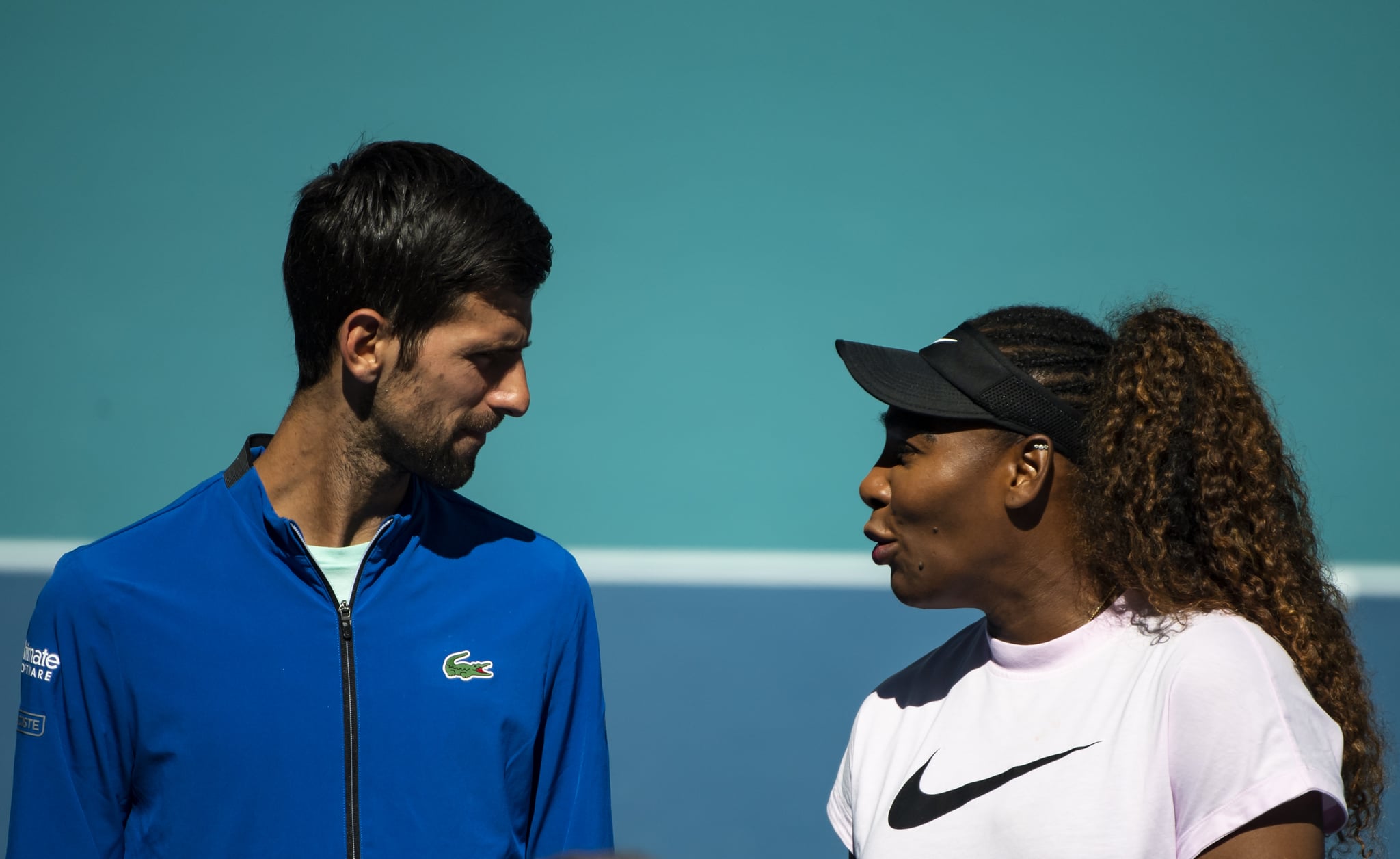 Image Source: Getty / TPN
Serena Williams's meetup with Argentine Nadia Podoroska at the 2021 Italian Open on May 12 marked her 1,000th career match. Though the 23-time Grand Slam champion ended up losing, it's a major milestone, and men's No. 1 player Novak Djokovic recorded a congratulatory message to her posted by the ATP Tour. "Words cannot describe how much you contributed to the tennis in general, both male and female side," he stated.
Djokovic, from Serbia, continued, "You have been an icon to this sport. Thank you so much for everything you have done on and off the court and what you keep on doing. You inspire myself and many other players on both men and women's side, and we are so excited to share the same era as you as well. So, wishing you all the best, champ! Keep going." Watch that video ahead.
Congratulations on 1️⃣0️⃣0️⃣0️⃣ career matches, @serenawilliams! 🎉@DjokerNole | #IBI21 pic.twitter.com/M9PhZVAWh3

— ATP Tour (@atptour) May 12, 2021
While the message is nice — and one we agree with — let's not forget Djokovic's past comments against equal pay. In 2016, he applauded women on the WTA Tour fighting for increased equity, but he also said men should, at the same time, push for more pay than women "because the stats are showing that we have much more spectators on the men's tennis matches." He added, per ESPN, "I think that's one of the reasons why maybe we should get awarded more. Women should fight for what they think they deserve and we should fight for what we think we deserve." Plus, last year, he was among the tennis pros who founded a players' association, the Professional Tennis Players Association, without women.
Williams responded in 2016 to Djokovic's claims by saying, according to The Guardian, "If I have a daughter who plays tennis and also have a son that plays tennis, I wouldn't say that my son deserves more because he is a man. If they both started at three years old I would say they both deserve the same amount of money." Djokovic later apologized, stating, "This was never meant to be made into a fight between genders and differences in pay, but in the way all players are rewarded for their play and effort."
The two have been on the professional scene together for quite a bit of time — though Williams's first professional event came eight years before Djokovic's. At the 2021 Australian Open this past February, Djokovic praised Williams as "one of the greatest ever athletes, not just tennis players."